Paving the Way - Colas uses BBA for East Midlands Airport Runway Resurfacing
17-02-2017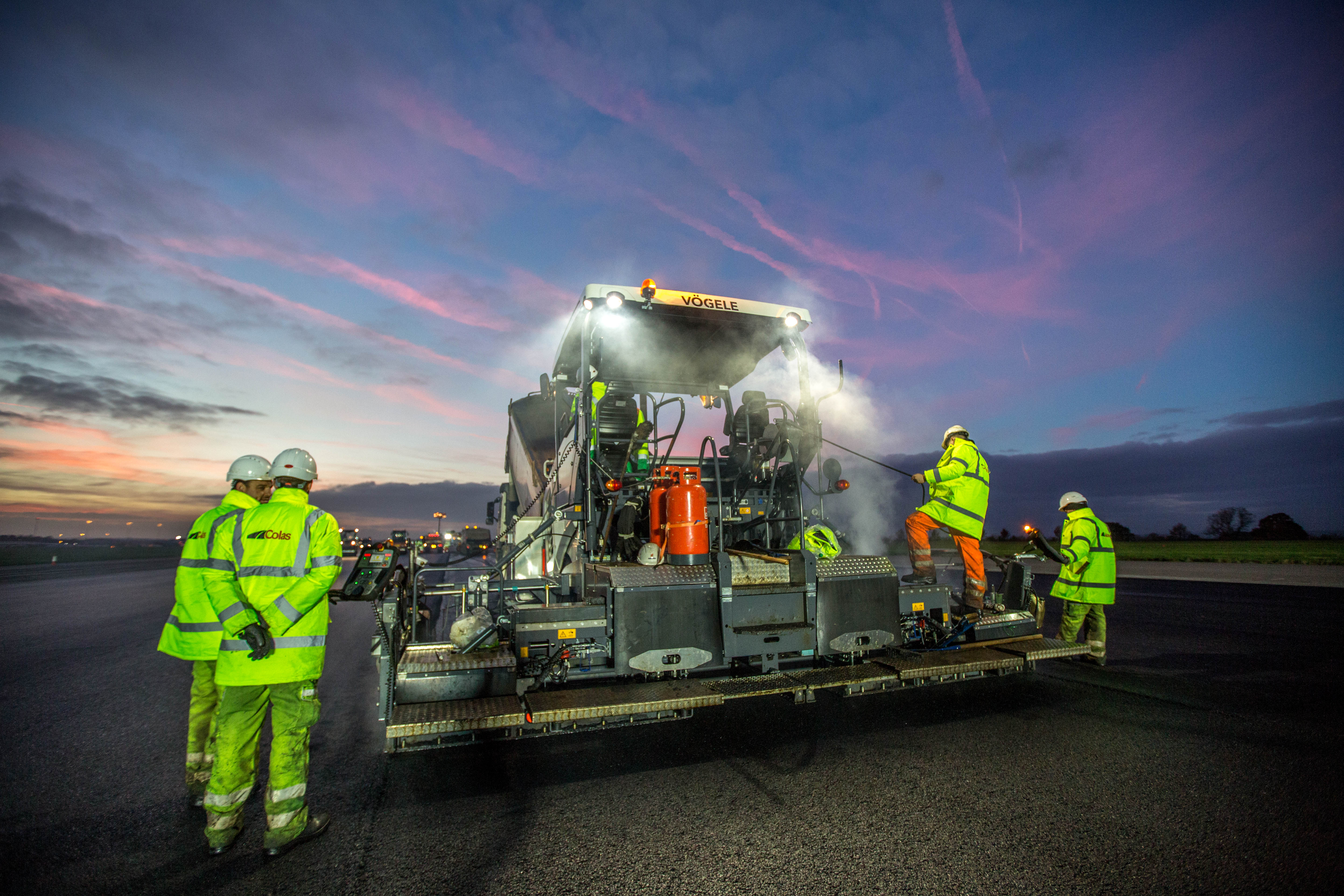 In 2016, Colas was appointed by Main Contractor Galliford Try as specialist surfacing contractor as part of a project to recondition the 2.9km 09-27 runway at East Midlands Airport, operated by the Manchester Airport Group (MAG). The surfacing works were undertaken by Colas during day and night shifts across five consecutive weekend closures of the runway. The project marked the first time that a UK commercial airport had implemented full shutdowns across multiple weekends to allow large volumes of surfacing to be carried out.
On behalf of MAG's framework contractor, Galliford Try, Colas removed the existing asphalt pavement and resurfaced the runway and taxiway tie-ins with a new high-quality AC 14 ungrooved Béton Bitumineux pour chaussées Aéronautiques (BBA) surface course and a BBA binder course.
Colas introduced BBA to the UK market in 2005 during a runway extension and resurfacing project at Sumburgh Airport, Scotland. Although the use of BBA has long been commonplace in mainland Europe, it was not until Colas identified the benefits of using asphalt designed to meet BBA specifications that UK airports began to see it as a viable alternative to Marshall Asphalt.
Provision for its manufacture has recently been detailed in the British Standards Institution's newly revised document PD 6691:2015 which gives guidance on the use of bituminous mixtures. BBA is also now included in BS 594987 which covers the transporting and laying of asphalt. Industry experts supporting the development of the revised British standards believe that this latest step, coupled with the successes at East Midlands Airport, will open the door to the wider specification of BBA in the airport sector, and may open up potential use in other applications too.
The use of BBA for airfield pavement construction and rehabilitation projects provides the following benefits over traditional asphalt materials:
The coarse surface texture and high friction characteristics of BBA negate the need for grooving, saving time and allowing aircraft to traffic the BBA as soon as it has been compacted and cooled.
The material is able to demonstrate the required surface friction characteristics, reduced deformation and fatigue and offer a longer lifespan than alternative materials.
BBA can be laid as binder course due to its high wet friction properties. This allows aircraft to land on BBA binder course and use it as a temporary operating surface during runway rehabilitation/maintenance works.
BBA can be laid at thicknesses 15% less than Marshall Asphalt, therefore less aggregate is required which promotes sustainability.
Laying on-site and has shown to produce comparable pavement strength and durability at a reduced layer thickness when used in combination with stiff asphalt base.
Time and cost savings can be realised through the use of BBA as it is easier to mix and can be manufactured at far greater output rates than traditional Marshall Asphalt. Higher outputs also reduce the number of joints which in turn lowers whole-life costs.
Ungrooved BBA negates the risk of premature groove closures sometimes associated with Marshall Asphalt, minimising maintenance requirements. The material has previously been specified on a series of airfield runways using the former French materials specification at Sumburgh in the Shetland Islands and Tiree in the Hebrides. Further applications followed at Jersey, the Isle of Man and Southend. Manchester Airport specified its use without grooving during the rehabilitation of Runway 1, and more recently BBA has been used in the extension and strengthening works at Birmingham Airport. The East Midlands Airport project marked the ninth airport at which Colas has successfully utilised asphalt designed to BBA specifications.
Colas' specialist knowledge and experience of creating BBA designs were fundamental to the success of the project. The BBA mix was developed by Colas' project management team and UK based Technical Department in conjunction with material specialists and technicians from Colas' state of the art research facility, the Campus for Science and Techniques (CST) located in Paris. 
The extensive and detailed design process ensured that the BBA mix met the client's requirements. Colas liaised with its supply chain partners to procure the most suitable materials for the new runway surface. A stringent material testing regime was implemented during the design and construction periods to guarantee compliance with the design specification. Prior to commencing surfacing operations on the runway at East Midlands Airport, Colas conducted laying trials on an airport access road to make certain that the AC 14 ungrooved BBA material would meet the requirements of the project and achieve the specification. 
Colas began the delivery of the surfacing element of the East Midlands Airport project on 5th November 2016. Within each 48 hour weekend possession, Colas had a planned 30 hour programme, with a 6 hour contingency window, to implement the surfacing works. Colas began at 20:00hrs each Saturday and operations were split into three consecutive shifts (two night shifts and one day shift) during which Colas teams planed off the existing Marshall Asphalt runway surface course over a width of 44.2m before laying a new BBA surface. In addition, material in the central 22m keel section of the runway was replaced to a depth of 165mm. The runway works involved the use of six paving machines, with five laying in echelon formation to ensure no cold joints were created in the surface. Colas also laid new BBA surface and regulating courses on both runway shoulders and taxiway tie-ins. 
Upon project completion, Colas had laid approximately 50,000 tonnes of asphalt material. To produce the tonnages required for each possession, Colas procured and established on-site three state of the art mobile asphalt plants which were in operation simultaneously and provided a continuous supply of BBA. These included: Beninghoven MBA 3000, Intrame M280 and Ermont TS21, producing a minimum total of 600t/hour. At certain points within the programme, these levels were exceeded, reaching more than 800t/hour.
Colas completed the prestigious project ahead of schedule, within just five weekends. The project marked the first time three mobile asphalt plants had been used on a UK airport project to produce such high quantities of surfacing materials – Colas manufactured 13,000 tonnes on-site in a single weekend. The new BBA surface performed to a high standard, and the client was particularly pleased with the quality of the works and the uniform finish provided. Early life friction requirements were exceeded, and Colas was able to minimise transverse joints and eliminate longitudinal joints during the main resurfacing works.
The success of the East Midlands Airport runway resurfacing project once again demonstrated Colas' unique experience and ability to lay asphalt designed to BBA specifications. Peter Bamfield, Colas Associate Director, Airfields, said "After manufacturing and installing BBA asphalts in the UK airport sectors for over 12 years, Colas has further consolidated its advantage in this area. It is important to note that BBA is about a standard, not a product, and its Colas' strict adherence to the standards and lessons learned by our French colleagues over 20 years that have made this a success.