Colas backs Cornish quarrying operation with major investment
03-06-2019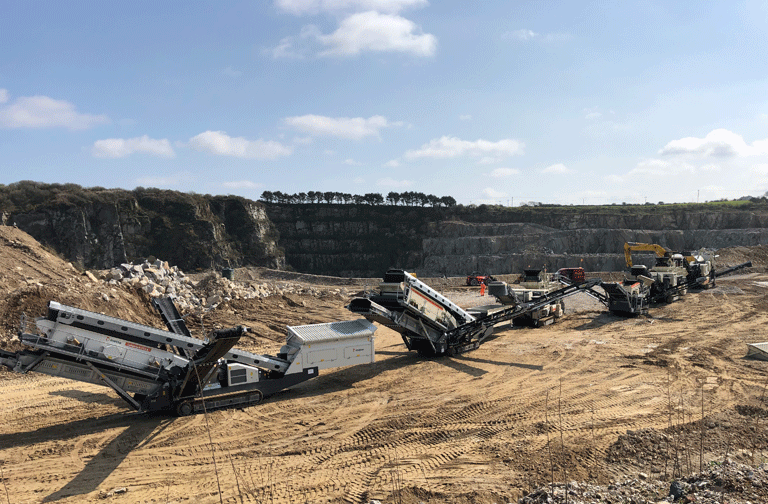 Developing Carnsew to produce a wide range of materials
We are making a major multi-million-pound investment in our Cornish quarrying operation, Colas Cornwall Quarries.
This reflects our Colas Group strategic commitment to quarrying globally. We have previously invested £2.5 million in an asphalt plant and have now installed a £1.5 million mobile crushing plant at the Carnsew quarry.
This allows our operation to work entirely in-house with a 16-strong team now including four colleagues who have joined us from our previous contractor MMC. Carnsew Quarry has been in operation just outside Falmouth since the early 1900s. Stone from the quarry was used on the exterior of Truro Cathedral which was completed c.1910.
Delivering half a million tonnes 
Currently, Colas Cornwall Quarries delivers half a million tonnes of Cornish granite a year – which is used in local construction and roads.  And we have identified rock armour and sea defences as a key business area going forward. The Metso processing plant was installed in one week and consists of six tracked mobile units, one jaw crusher and rock hammer, two cone crushers and three screen units. The jaw crusher can take 600mm granite blocks and is equipped with a scalping belt, metal detection belt and water suppression system. All plant units are tracked, with the crushers being radio remote controlled. This allows the machines to be established in a variety of configurations allowing Carnsew to vary production to produce a wide range of materials.
We're committed to being good neighbours
Quarrying and mining are a key part of Cornwall's history and present - whether it be quarrying for Cornish granite, China Clay or – as fans of Poldark will have seen - in an earlier era, Cornish tin. But, while the county has been shaped by quarrying and mining, Colas is committed to being a 'good neighbour' and there will not be any noticeable difference in the impact of the operation for the local community. As owner-operator since 2000, when we acquired the quarry, our first major investment was during 2007, when a state of the art £2.5million Ammann Uniglobe 200 asphalt plant was installed. This supplies a considerable share of asphalt laid in the Cornish market.
Now we believe the time has come to continue to develop Carnsew and make further long-term investment to demonstrating the importance of Cornish quarrying to our future manufacturing strategy.
Stewart Struthers, Director of Products, says: "We are making this investment as part of the review of the Colas Group's quarry assets worldwide. This is a challenging change for the team at Carnsew. But it will give career development opportunities, as staff take over the processing operation. It will also give the experience of setting up our own processing operation from the beginning. Quarry development and product types will be entirely under Colas's control, giving the flexibility to focus on specific markets such as rock armour for coastal protection works.  Having greater control over the operation is a great step in our plans for expanding the business."