Colas adds further COVID-19 safety measure
20-01-2021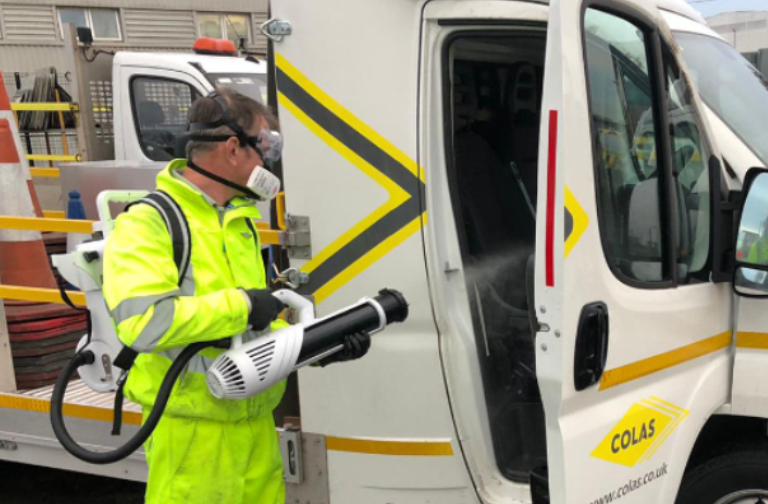 Innovative use of electrostatic fogging machines
In addition to rolling out the rapid flow testing as announced last week, Colas has also introduced the innovative use of electrostatic fogging machines which will sanitise the inside of vehicles, removing COVID-19 droplets from surfaces.
The Colas Traffic Management team in the North West have been using the new device which saves time, reduces the using of wipes and reaches all areas within the vehicle, following this successful trial, Colas now plans to roll out more of the devices.
The specialist unit is a cordless backpack electrostatic fogging machine, and is designed for fogging and fully sanitising all surfaces with anti-viral disinfectant fluid. Electrostatic foggers have an electrode that introduces a positive electric charge to the anti-viral disinfection fluid. This process makes the disinfectant attracted to surfaces including odd-shaped objects with nooks and crannies often found within vehicles, that conventional foggers or traditional spray and cloth techniques don't always reach. This technological approach to sanitising allows the disinfectant to fully wrap surfaces with an even coverage, ensuring that the insides of our vehicles are fully sanitised and improving the safety of their use for our staff.
Carl Fergusson, Colas Ltd Chief Executive Officer added "the safety of our staff remains our number one priority at Colas, and over the last year we have continued to react quickly and look for innovative ways to protect our staff during the pandemic as they continue their daily activities as essential construction workers."
The new device has been sourced from small business, who diversified into PPE and safety devices at the beginning of the pandemic in 2020. Since then they have been expanding their product range which now includes the electrostatic fogging machine and Colas, are delighted to be supporting small local businesses whilst adding safety measures for their staff.