Fibredec Surface Dressing
Versatile Application, Proven Performance
Fibredec surface dressing is an effective solution to problems above and below the road surface.
It is a unique combination of bitumen emulsion, chopped glass fibre and aggregate. Together these form a strong, flexible and waterproof matrix which has a variety of uses both above and below the road surface.
Fibredec Surface Dressing
Fibredec can be applied to a variety of thicknesses as a single coat, double coat or racked-in dressing. Fibredec can be laid to a variety of thicknesses to suit a wide range of uses including roads, car parks, waterways, parks and heritage sites.
Stress Absorbing Membrane Interlayer
Fibredec SAMI - crack inhibiting membrane - effectively inhibits reflective cracking over a whole range of applications including roads, footpaths, car parks, commercial and architectural developments.
Fibredec Decorative Surfacing
Fibredec decorative surfacing design brings together a combination of materials, carefully selected to harmonise with their surroundings and designed to meet the requirements of different site conditions and usage patterns. Comes in a variety of natural colour aggregates.
Versatile – What it is for
Fibredec is particularly effective when used:
to provide a waterproof and flexible membrane on cracked and crazed surfaces

to restore skid resistance to spalling or fretting concrete and blacktop

to provide a cost effective surface over unbound, granular sub bases

to inhibit reflective cracking when used above or below the road surface as a Stress Absorbing Membrane
Proven performance
Whilst conventional SAMIs simply relieve stress, Fibredec acts like a cushion - its thickness absorbs stresses, thereby acting as a true stress absorbing membrane.
Research undertaken by Nottingham University concluded that: Fibredec has sufficient tensile strength and flexibility to absorb movements in the pavement structure and prevent the surface from cracking. Where permanent lateral movement of the overlay might occur – due to cracks in the underlay material – Fibredec reduces the magnitude of the resultant strain in the overlay by spreading it over a greater area.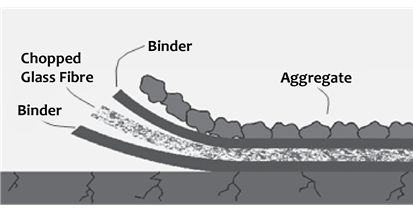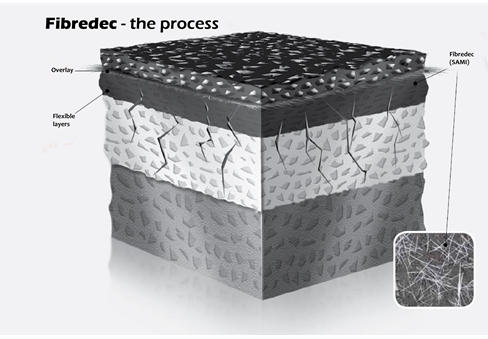 Ulster University confirmed the Nottingham results, while Australian evaluation studies have endorsed the system's performance in live situations. The use of Fibredec as a SAMI significantly inhibits the propagation of reflective cracking in an asphalt overlay. In each of the tests conducted, the samples using Fibredec out-performed the samples where no SAMI was used.
The use of Fibredec was shown to enhance the performance of an overlay by approximately 30% (fatigue and tensile stress) and wheel tracking tests by 300%. The benefits and ease of application of the sprayed in-situ Fibredec membrane were also noted and compared favourably with the associated difficulties of laying a conventional woven geotextile.
Where to use
can be applied by hand in difficult and hard to reach areas
over asphalt or concrete
on consolidated Type1 materials and unbound, granular road bases
for environmentally sensitive sites, or areas requiring some form of colour demarcation
in areas with difficult or restricted access
Application
Specially developed application equipment capable of both high output and delicate control applies glass fibres in-situ, sandwiching them between two layers of polymer modified bitumen. Selected aggregates are then rolled into the surface leaving a crack and fatigue resistant surfacing characterised by enhanced tensile strength. The system can be applied as a single coat, double coat or racked-in dressing depending on the needs of the site.
A wide range of different coloured aggregates are available.