Colas showcases capabilities using Augmented Reality at Highways UK and REGEN 2019
13-11-2019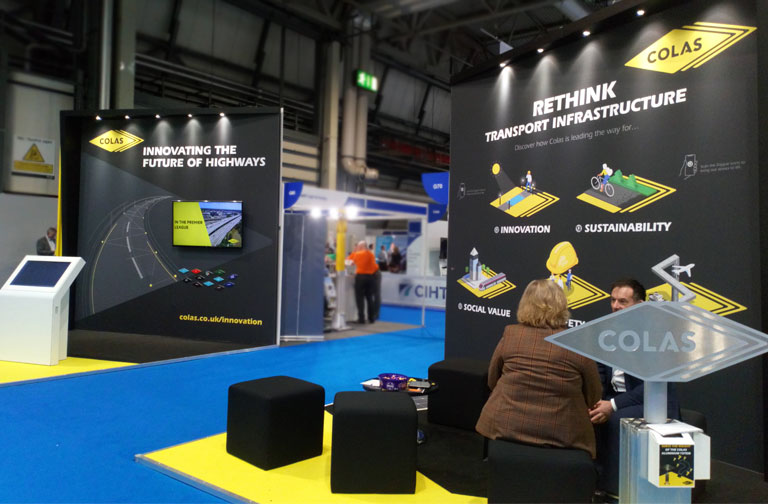 Colas showcases capabilities
Colas had two very successful events last week - at Highways UK at the NEC and in Liverpool at REGEN 2019.
Visitors to both events were encouraged to RETHINK their perception of Colas in Transport Infrastructure – and to discover how we are leading the way in areas from End to End solutions, to sustainability and social value. In line with our Transformation challenge – to improve brand awareness and perception - we developed great new content, showcasing it via digital presentation formats, including our show-stopping Augmented Reality platform: Zappar.
Five Zappar experiences were featured on the stand and I-Pads were used to show visitors Key messages of:
• End to End solutions – M7 Motorway
• Safety – Anlaby Flood Alleviation scheme
• Sustainability – Lincolnshire Retread programme
• Social Value – MMA Birmingham Westside Extension
• Innovation – Solar PV system, Wattway
Our radical stand design attracted positive reaction from both visitors and competitors who were enlightened by the breadth of our capability. Immersive and accessible were just some of the buzzwords associated with our Zappar experience across both events, whilst hi-tech interactive media content technology proved very engaging with RFID tags. When held up to the screen, these automatically played videos from a selection of powerful Colas stories – from our M7 project in Ireland to the new Exopush system. Subsequently, the experience inspired a large number of application downloads via phone and tablet, which will help spread awareness of our capabilities.
A Media Centre featured a mix of videos and case studies with a link to our website and an area to capture visitor information details for post-show follow-up. Displays included a Wattway panel section and a totem of the Colas logo fabricated in aluminium to further demonstrate our capability as part of our ITS offer – with a Guess the Weight competition to invite visitors to consider the benefit of aluminium weight versus steel.