At Colas we have been training apprentices for over 20 years. Our industry relies on skilled and experienced people, and as an Investors in People company we are committed to providing our people with the right training and support they need to help them build a portfolio of their experiences and work.
Our apprenticeship opportunities provide real prospects for civil engineering, electrical engineering, mechanical services and construction projects. As a Colas apprentice you will be trained by industry experts and work towards a widely recognised National Vocational Qualification (NVQ).
Depending on the apprenticeship chosen, the ongoing training and qualification may take two - four years to complete.
Apprenticeships are an excellent way of gaining hands on experience and practical skills. Working with us you will learn and gain job specific skills and knowledge through your own personal mentor and working alongside our industry experts.
View our Apprenticeships Brochure here
_______________________________________________________________________________________________________
Here are some of our recent apprentices here at Colas Ltd.
A case study: travelling to new heights – Raj Clair, Apprentice Chartered Surveyor at Colas
Raj's story I've always been someone who has best learned by doing – learning the theory and then putting it into practice the very next day. To me, an apprenticeship was the logical next step after college, and I couldn't wait to begin.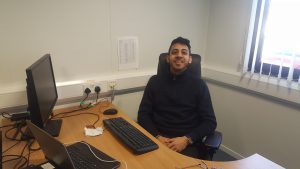 Whereas my friends and family were keen to encourage me to proceed down a traditional university route, I was intrigued by the idea of 'learning whilst doing', and building valuable work place experience at the same time.
I wanted to be part of something that would make a difference in the future, and the Built Environment sector was an obvious fit for me – It's exciting to be a part of work we're undertaking at Colas to support future travel infrastructure!
Finding the balance between working and studying is key to making an apprenticeship work and UCEM's online learning environment makes it so easy for me to access programme material around my role. I was unsure how I would adapt to online learning, following a classroom based approach but it's been really easy and I've not looked back since.
The programme material has been really engaging too, it's up to date with key industry challenges and movements and it's been great to share this insight with my colleagues. In fact, I've just recently finished a module in legal which I really enjoyed as I was able to apply some of my learnings to a real life situation at the time.
Six months into the role and no two days have been the same. I'm learning new aspects of the role each week, whether it be legal, commercial or strategically focused. There is always another challenge around the corner which keeps things fresh and interesting and ensures I am always learning. I also sit down regularly with Colas and my UCEM Apprenticeship Officer to ensure my development is on track which has been really useful.
I think there can be a common misconception on the value of an apprenticeship – it's certainly more than making cups of tea! At Colas, the people around me are always inviting me to work on new things and offering me a number of opportunities to be involved in different projects.
Whilst my family and friends were sceptical when I told them I'd made the decision to become an apprentice, they were quickly won over by the experience I was gaining at the same time, and how easily I could balance work and study. I would recommend this route to anyone!
__________________________________________________________________________________________________________
Apprentice People Profile : Ami Gregory
Ami Gregory, 19, is our Training Administrator Apprentice, completing a one-year course as part of her permanent contract. Ami has played a big role in the organisation of Apprentice Week, and her nomination for Apprentice of the Year within Central Sussex Colleges is well deserved.
What does the apprenticeship consist of?
I help to arrange training for people across the Business, designed to improve employees' development, and work with external companies such as ACAS to ensure that it is delivered and facilitated as planned. I have also been involved in organising Equality & Diversity and Recruitment training. A lot of my recent work has gone into organising this year's Apprentice Week.
What went into organising Apprentice week?
It has been a difficult task to make sure that everything runs smoothly; there was a lot to remember. It has involved a lot of communications, both across Colas and externally, as well as creating an agenda for the week. I had to liaise with Crawley College – who have 11 students coming in for an event on Friday – and there has been a lot of collaboration with Marketing, HR and Finance.
What has surprised you about Colas?
The amount of opportunities which they offer. The great work being done across the Company is providing countless progression and development opportunities which will really help with people's careers.
What made you apply for this apprenticeship?
I wanted to get a position where I could pick up some qualifications while working and look to develop my skillset further. The role that I am in now is a really good opportunity to do that.
What were you doing before you joined us?
I worked in retail at Accessorize in Gatwick Airport part-time for three years whilst attending my local sixth form, but it wasn't what I wanted to do long-term and fortunately I was able to get the apprenticeship here in September last year.
_______________________________________________________________________________________________________
Apprentice People Profile : Paul Staples
Paul Staples is our youngest apprentice at the age of 18. He is working in our ICT department as an Apprentice ICT Support Technician on a year-long apprenticeship.
What does your apprenticeship consist of?
I only joined Colas last month, so at the moment I am just getting involved with building Colas systems onto the new laptops. Our intranet, for example, and the email system need to be added before we hand them out to employees. It won't be long until I'm answering the phones to help people with their IT issues as well.
What do you hope to achieve as a result of this apprenticeship?
Hopefully I can get through it successfully and then I'll be in a position to find future employment, which hopefully will be at Colas. I definitely want to stay in ICT and progress within that area as far as I can.
How is Colas supporting you throughout the apprenticeship?
The Company is putting me through an ICT course at college, which I am extremely thankful for, while also giving me the opportunity to work. I think working in a business environment while I am still studying will really help with my long-term development.
What is your favourite aspect of the role?
I really like the team that I work with. They are all great guys, who are always happy to offer some guidance when I need it, really helping me to settle in easier.
What did you do before joining Colas?
This is actually the first real job that I have had. I finished my A-Levels in August last year and this is my first opportunity to test myself in the working world. So far I am really enjoying it.
______________________________________________________________________________________________________
Apprentice People Profile : Megan Cassar
Megan Cassar, 20, is our Payroll Assistant Apprentice who joined Colas in October on a year-long apprenticeship.
What does your apprenticeship consist of?
As the Payroll Assistant Apprentice, I assist with the processing of three of our company payrolls, all of which are for operatives and need to be dealt with on a weekly basis. I also handle queries that come in about payslips and update our database whenever there are changes to people's details.
What do you hope this apprenticeship will lead to?
I am studying Accounts at college, which I am really grateful for Colas to be funding. As a result of this qualification and the experience that I am gaining in payroll, I am hoping that I will be able to progress into accounts and work my way up in that area.
Why were you interested in this apprenticeship?
I was always interested in the idea of learning while I was working so an apprenticeship was a natural choice. I liked the idea of this one because there is so much opportunity for progression and long-term, I think this could be a very solid career for me.
What has surprised you about the role?
There is so much more to payroll than I thought. As well as making sure everybody, including over 1,000 weekly-paid operatives, over 700 monthly-paid staff and 270 pensioners, are paid, we take care of holiday pay, P45s, changes to employees' salaries and any changes to inputs (employee details, such as their contact numbers and addresses).
What were you doing before joining Colas?
I was working at a Costa's in Burgess Hill as an Assistant Manager for over a year. It wasn't for me though, and when I saw the opportunity for this apprenticeship I was always going to take it.
_____________________________________________________________________________________________________
Apprentice People Profile : Jodie Booker
Jodie Booker, 22, is one of our HR Administration Apprentices, who is now two months into an 18 month-long apprenticeship with Colas.
What does your apprenticeship consist of?
It is my responsibility to send out offer packs to new employees, containing their contracts and other necessary paperwork. I also liaise with payroll in relation to any salary changes and joiners or leavers, as well as maintaining the HR database and dealing with employee queries. I help to look after the post and will cover reception sometimes too.
How has Colas helped with your apprenticeship?
The Company has been really helpful by supporting me through college and allowing me to learn while working. They are giving me the opportunity to get another qualification so it's the best of both worlds for me and will be really beneficial for my career.
What is the most challenging aspect of your role?
Trying to remember everything is tough at times. There are a lot of processes and policies here, some of which have really specific points which are essential to my job, and to ensure that I don't forget any of it can be a challenge.
What are you hoping to get out of this apprenticeship?
I am trying to gain as much experience as I can, and working in a business environment such as this is really helping me to understand what needs to be done, and just as importantly, how it needs to be done.
What has surprised you the most about Colas?
I had no idea how much went into a civil engineering company! Colas has so many sites across the UK as well as a variety of different departments which all play a crucial part in the running of the Business.
View our Apprenticeships Brochure here